All the World's a Stage
I missed out on last week's Stuff Portrait Friday, and wanted to try to make "Motif Monday," with something on "costumes." Then it occurred to me that I can show some "stuff" from last week's SPF, as part of my "costumes" post. Here you have one of my favorite framed pictures in my house, with "costumes" as a theme: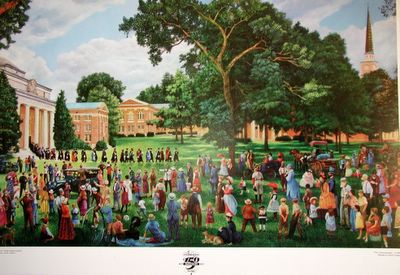 A framed print of a painting representing the college where Jif and I met and decided to love each other. It was painted in 1987 as part of the college's "sesquicentennial" celebration. Did you know that word? I didn't. It means the 150th year. The print was given to us as an anniversary gift by Jif's parents. It is large, and this house is the first time we've had wall space big enough to hang it on without overwhelming the place. I love it. The people are gathered for "The Commencement," and they are dressed in period clothing that spans the 150 years of the college's life. Isn't that cool?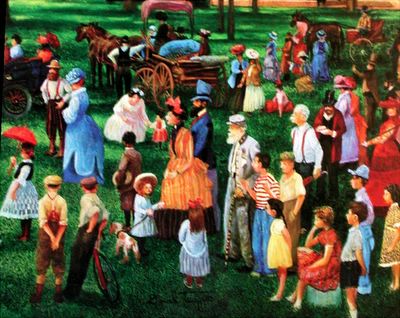 See, here is a detail with a boy in jeans beside a Civil War soldier . . . a buggy and an automobile, various skirt lengths . . .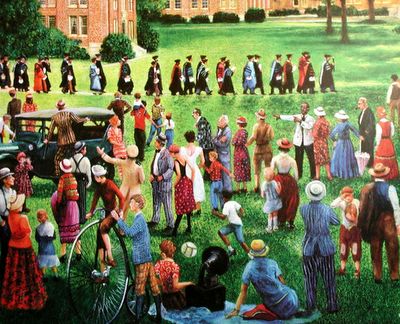 And here the graduates march in caps and gowns from the various periods . . . a family plays music from a gramophone, while a boy practices soccer . . . Isn't it clever? I appreciate the acknowledgement of the connectedness of the people who pass through a place over time.

OK, now for the story portion of the Monday Motif, unrelated to the above. This is another little somethin' that I wrote a while ago, for my church autobiography group:


Suppose . . .


When I was in sixth grade, my class presented a play called, "Suppose." In this play, a group of maidens sat discussing how their various talents (weaving, spinning, baking, etc.) would impress the king if he should happen to come to their village. There were 12 maidens, each dressed in a pastel colored long skirt and white blouse, and each boasting about her particular skill. At the end of the line of maidens sat a 13th girl, with a sweet, modest disposition, but no particular talent. Her name was "Plain Jane."
The other girls were always admonishing Plain Jane that she should work harder at self-promotion, just in case a king should come to their town to choose a bride. During the course of this discussion, each girl would go down the line, saying, "Suppose . . . " and the 12th girl would finish the thought with, ". . . a king comes by!"
The teacher in charge of this production was my beloved Mrs. Thornton. As we read "Suppose" together in class, I knew immediately that I wanted to be Plain Jane, only because she would be dressed differently than the other 12 girls. At that time, and pretty much throughout my school years, I liked to avoid conformity in dress whenever possible. As we continued reading the play, it turned out that not only did Plain Jane not have to wear the skirt and blouse "uniform," but a king did come by, and asked Plain Jane to marry him and be the queen! (I think this was because while all the other girls were bragging and showing off their creations, Plain Jane offered the king and his fellow travellers a drink of water.) So, between the different costume and being chosen by the king, now I really wanted to be Plain Jane!
When Mrs. Thornton described the costume she had in mind for Plain Jane, I realized that I already had it. I told Mrs. Thornton about a calico "granny dress" that I had, with a white pinafore trimmed in eyelet lace. She agreed that it would be perfect, and I brought the dress in the next day. I thought the dress and I would be a package deal for Plain Jane, but that's not what Mrs. Thornton had in mind.
She asked Ginny, also known as "Punkin," to come up and try on the dress. Ginny was called "Punkin" by almost everyone but me. The story was that Ginny's mother had conceived her while a teenager in West Virginia, and had denied the pregnancy until it was so obvious that relatives began to say to her, "Then what's that, a punkin?" Ginny's mom would say, "yes," and from that point on, Punkin was her name. In retrospect, I guess it would have been unlikely for me to call her Punkin when I knew that the correct pronunciation was "Pumpkin." Living in a northern state with southern parents was always a linguistic balancing act for me, and I was a bit fearful that some pronunciation I learned from my parents would turn out to be a "hillbilly" pronunciation, and someone at school would tease me.
Anyway, Ginny was Mrs. Thornton's choice, and I pretended not to be hurt by that. Ginny was petite, with light blue eyes, white-blond hair, and very fair skin. She looked like an angel or a porcelain doll, and I can understand Mrs. Thornton's choosing her. The king was played by a tall black boy named James. James had been my friend for many years, and he was a very talented boy. I don't remember whether he could act, but he was a gifted artist and singer.
We all went along preparing for the play. I was one of the 12 maidens. A couple of days before the play, Ginny came in with my dress in a bag, and a note from her mother. Mrs. Thornton read the note and was silent for a moment, then she looked like she could cry. She often referred to herself in the third person, and this day she said to Ginny, "This makes Mrs. Thornton very sad, but Mrs. Thornton understands that this is not your decision."
Then she said to me, "Susie, you will please be Plain Jane. Let Ginny have your skirt and blouse." I was bewildered, but complied. I don't know how we all knew what happened, but we did. When Ginny's mother realized that her punkin would be marrying James, a black king, in front of the whole school, she refused to let Ginny play the part. If James was hurt by this, he didn't show it.
I was confused. Suddenly the part I had wanted so badly was no longer desirable. Ginny had turned it down. If Ginny were "too good" for the part, what did that make me? My mother encouraged me to go ahead with the play, reminding me that James was the same boy I'd been laughing and singing with for years. I did the play, anxious about whether I would be teased for marrying a black boy. I wasn't. I was the star, the chosen one, just as the play was written. James and I walked down through the middle of the assembly together, to cheers and applause.
When I think of this now, I'm struck not only by the racial issues we dealt with more or less explicitly, but also with the message of the play, which we didn't examine at all. The first 12 maidens were producers, achievers, good at something and eager to get recognition for that. They were portrayed as unworthy of the king's attention. The 13th, Plain Jane, was self-deprecating and a servant to the king and his men. This is what a man was looking for in a wife. This was about 1971.
Anyone is welcome to play these themey things; please join in if the spirit moves you:

Kristine
is the lovely hostess for Stuff Portrait Fridays, and
mrtl
is the magnificent mayor of Motif Monday. If you play, let them know, and lots of people will comseeya
.