Partying with Minors

Strike a Pose!

I should have known, when every last parent who dropped off a kid asked, "How many are you having?" and when I answered , "Nine," and when they said, eyes wide, "Wow, you're brave." I should have known then that it would be a bad scene. It was LG's birthday, her very first sleepover party. I knew there would be giggling and staying up late. I didn't know that by 4 a.m. I would cross over to the dark side of motherhood.

A bit of background. At the risk of sounding totally lacking in humility, I throw the best kid parties ever. Every late February, children cry when they must leave our home; children go home and whine, "Why can't I have a party like LG's?!" I go overboard; I admit that. Maybe it's because of years of infertility and many miscarriages, maybe it's because I don't remember many birthday parties when I was little, I don't know. But we surely do celebrate the heck out of the anniversary of the day LG arrived.

First part of the party went great, for the most part. Dinner was pizza, chicken nuggets, veggies. I had carefully taken all nuts in the house (except the human ones) and tucked them way back in the pantry, because I knew one of the guests had a major nut allergy. Thought I was on top of that, but then the little girl asks, just before biting into her nuggets, "Were these fried in peanut oil?" Duh . . .

"They're from Chik-fil-A; do you know whether you can have them?"

"I don't know." Frantic calls to her mom, unreachable, then Jif goes on the website and learns that YES, CHIK-FIL-A FRIES THEIR NUGGETS IN PEANUT OIL!!!! Crisis averted.

Next, games (email me if you need elementary-age girly party games), a fashion show complete with sparkly stage, and self-written silly bio read into the microphone as each supermodel strutted down the runway. Makeup was applied, and glamour photos were taken, printed out and inserted in the 5X7 frames each kid decorated during the mandatory crafts portion of the par-tay.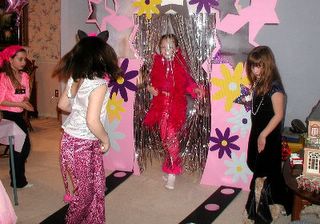 Getting Ready for the Show

At one point, the lovely and talented Aunt Jen showed up to help Jif and me. She cruise-directed the games while I got the craft/makeup/dining room table ready for cake and ice cream. Aunt Jen is young enough to remember her college days, so she decided to teach the 3rd graders a college-age (read: "drinking") game. She called it "signs," I think it's also called, "thumper." Anyhow, the girls loved it, but before long Jen calls out to me, "I've never seen anyone so good at this game; I have to make it more difficult, they're not making a single mistake . . ." And I'm all proud mama, thinking to myself, these girls really are very intelligent . . . well, we are a National Blue Ribbon Elementary School . . . Then it hits me. "Hey, Jen! They're sober!" Aaaah, that explains their brilliance at the drinking game.

After games and a movie, it's about 1 a.m., and Jif and I are ready for bed. The girls are jammied, teeth brushed, getting into their sleeping bags in the family room. I walk through the obstacle course of little girls handing out pre-moistened makeup removing towelettes. "This tastes AWFUL!" "No baby, you don't eat it, you wipe your face with it."

Upstairs, we hear them. No worries. We knew that was coming. And we hear them, and hear them. It's 2 a.m. Then I hear a sound I can't identify. We have a lot of fun things for kids to do in our house. I know what they all sound like. What we don't have in our house is a BOWLING ALLEY. And that's what I hear. Ohdearlord, they're BOWLING! I run down the steps, turn the corner just in time to see my angelic LG turn the corner heading the other way, and hear her sweet baby voice yell, "PARENT ALERT!!!!" By the time I get to the family room, they're in their bags, quietly giggling. "Um, girls, were you … it sounded like you were … bowling …" Giggles turn to guffaws. Silly mom. "OK, then. I don't mind how late you stay up; I just want you to be quieter. No screaming, and no more doing whatever it was that sounded like bowling. Goodnight, ladies."



We can get LIFTOFF here if we tie enough balloons to 'im!

As I leave the room, I hear commentary on how cool I am, telling them they can stay up later as long as I can't hear them. I'm cool. I rock. Back to bed.

3 a.m. I hear them. I have not yet been to sleep. Lying there exhausted in bed beside sleeping Jif, I hear, "Get the nail polish!" Aw, hell no. I go to the top of the steps again. Then I hear motors. They're small, but I swear they're MOTORS. Nail polish and whirring motors. This can't be good. Back downstairs, I learn that LG has nixed the nail polish idea, but sure enough, there are motors running. Little disco ball / strobe light things, battery operated ($9.99 at Target). OK, no harm done. "I just don't want to HEAR you anymore. I'm ready to go to sleep now."

3:30 a.m. I nudge Jif awake, give him a recap. "You go down this time," I say. He goes. I should have known better. He came back a defeated man.

"What did you say?"

"I told them if they don't go to sleep I'm going to start cooking them breakfast."

"You threatened them with WAFFLES?!! What did they say?"

"They cheered and said they're hungry." Doh! Lightweight.

It gets a little quieter. I start to drift off . . . BANGBANGBANG gigglegigglegiggle. They're knocking on my door. They run away, I get up, and THIS TIME IT'S PERSONAL. It's 4 a.m.

"Who knocked on my door?"

"I did," says the allergic one, now emboldened by sugar and sleep deprivation.

"What did you need?"

"We're scared." Then a chorus of "Yea, SCARED TO DEATH!"

"All right," my voice would freeze Pop-Ice instantly. "Since you are scared, I will stay down here with you."

The chorus again: no, we're not scared anymore, we don't need that, we'll be OK, you need your sleep . . .

I curl up in a chair and begin to fantasize about duct tape. Lots and lots of duct tape. Most of the evil-doers are silenced (well, almost) by my eery calm, but a couple continue to be loud and giggly. The NERVE. Then my own sleep deprivation, exhaustion, righteous indignation kicks in.

I begin to channel Dirty Harry (Dirty Harriet?): Do you feel lucky, Punks? Go ahead. Make my day.

And then I morph into the drill sergeant character played by Lou Gossett, Jr., in An Officer and a Gentleman: Some of you LOSERS have never been to my house before. Some of you will never be invited back here again! Are you eyeballing me?! Don't you eyeball me, girl!!

OK, I didn't actually say any of that, but I DID confiscate a flashlight. And I did give each and every one of them their own, individual, personalized DIRTY LOOK before I very dramatically rose and strode (yes, rose and strode; I told you it was dramatic) from the room in my floor-length, black velvet robe with faux leopard print shawl collar (think Joan Crawford). And even though they couldn't actually SEE the dirty looks, because it was pitch dark in the family room, I think they felt them. And I really did confiscate a flashlight.



got duct tape?